Adopting a kitten is easy, all you need to do is agree to a no decalw which is a strict agreement contract we have and let us know a little about you and your family and if you prefer a certain color or gender, you will need to get on our wait list, the deposit is 150.00 and can be placed on a pregnant mom and or a current kitten, depending if you placed a deposit on a pregnant mom or a born kitten you can get a kitten as early as a few days if one is available to as long as 4 1/2 months for a pregnant mom, a mom is pregnant for 60-67 days, Kittens will go home between 11 and 12 weeks old, no earlier then this, the ragdoll kitten nurses longer then some other breeds and they don't start eating until about 5 weeks old, where some kittens start at 4 weeks old, in some cases if I feel a kitten is not ready I will hold it back an extra week. I only take two deposits on a pregnant mom for one male one female, the rest will be taken when she delivers and they are at least a week old, deposits are first come first serve or depending on color/ gender choices.
Your kitten from a breeder that sells kittens with an altering agreement as we offer, will be less cost then breeders that sell them spayed or neutered, most spay and neuter done by a breeder's vet is normally 200.00 and up, you will have to alter your kitten three months after you get him or her, or earlier if you choose to but kittens must be done by age 6 months for both boys and girls, by waiting this gives the kitten time to grow with proper homones for bone heath and lowers the risk of anesthesia deaths in young kittens. I am a breeder who cares way to much to risk altering a kitten at 8 -10 weeks old, also waiting to alter gives you an advantage to browse around for lower prices if you don't have a vet that already has resonable prices, this can save you hundreds of dollars in total for your kitten and gives you three months to save up surgery cost.
We have a strict contract and proof of alter must be sent to me once its done.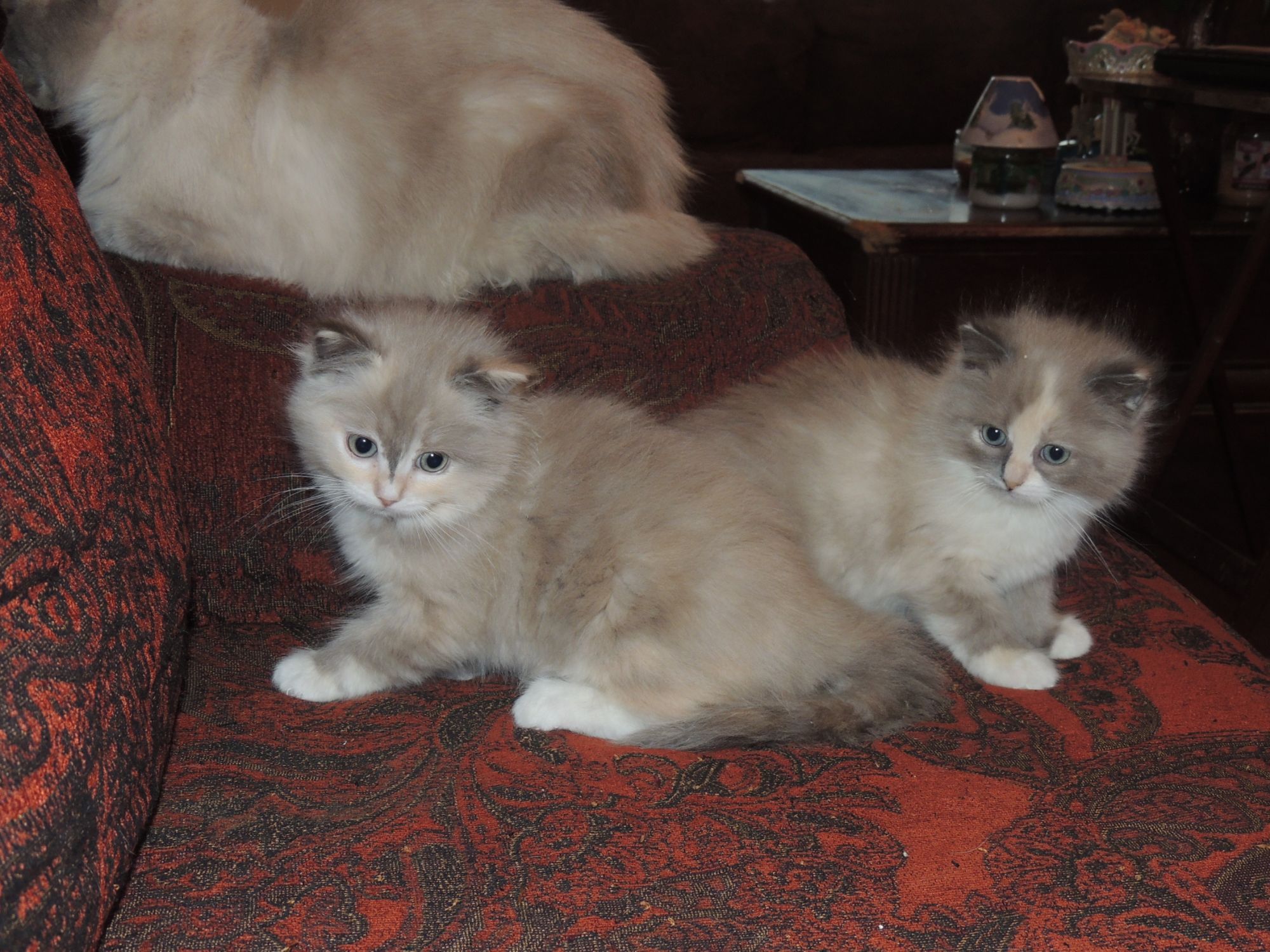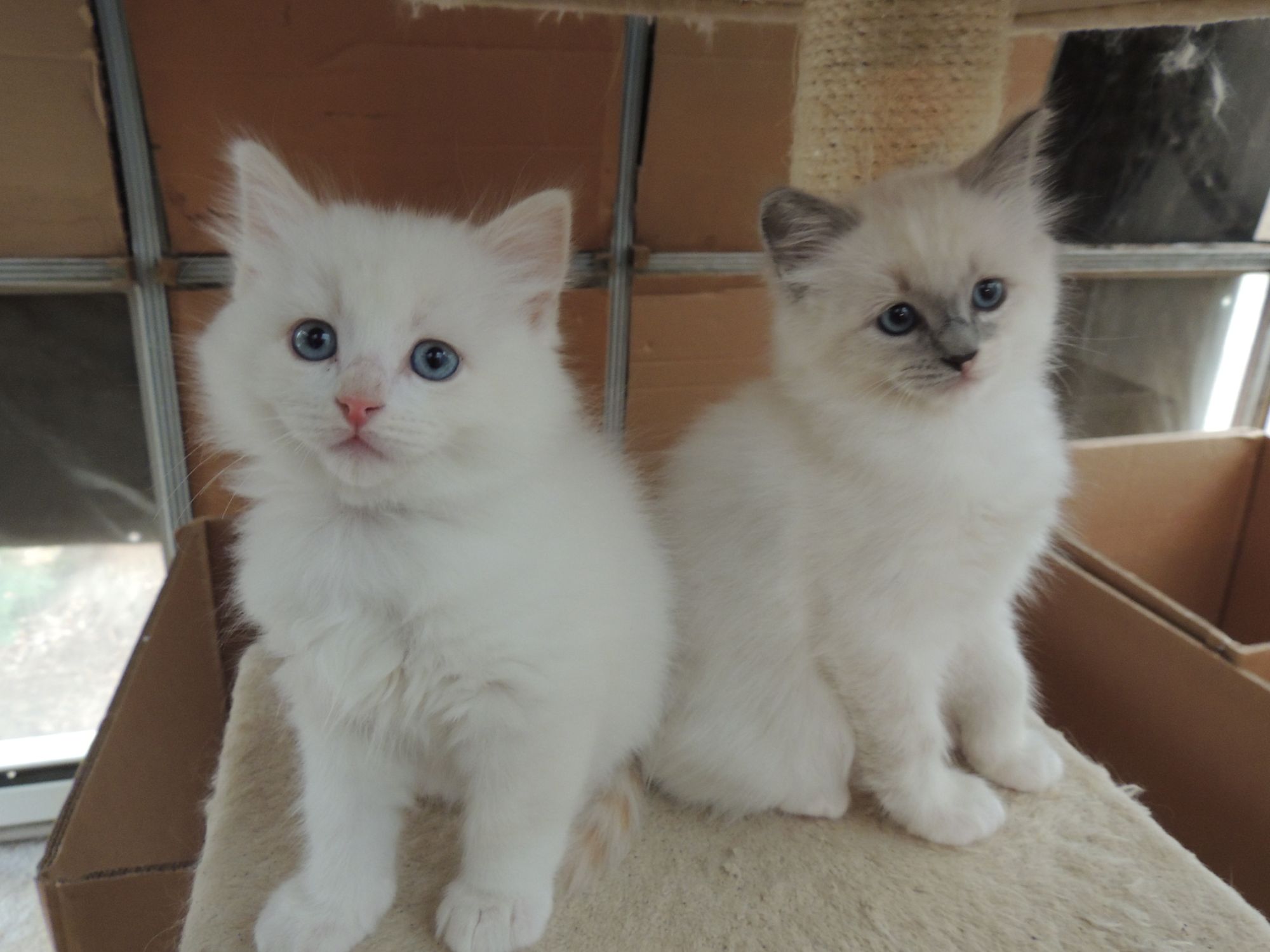 An example of some of our kittens, these are 7 weeks old , all kittens go home with first shots, one worming, a three year agianst PKD and HCM a three day money back gaurantee, food sample and contract, kittens can be picked out on photos and then seen at 11 weeks old and go home same day, if you are not happy with your choice you can wait for another availale kitten or get one that is avalable when you come to see your kitten, Deposits are NON REFUNDABLE for any reason, once you have a deposit down I do not take anymore on a litter and I turn down all enquires, if you back out that kitten will need to find a new home all over again.
Due to the safty of our home, we do not allow visitors who do not have a deposit down, we rarely allow you to come in and see kittens without a deposit down.
Prices : contact me for pricing of kittens, all older retired cats who I offer will be priced at 200- 350.00
Colors and patterns we offer.
We offer Blue, seal, flame, torite, cream, lilac, chocolate and minks in these colors, we have patterns of bicolor, mitted and point. the kittens shown here are a blue mink bicolor to the left and a flame mitted, right. A seal lynx mitted adult shown on next pic. Below we have two blue mink torties in mitted.
All sales are final unless I offer to take a kitten back, you have a three day money back if a life treatning issue is found by a certified vet, in rare cases if you cannot keep the kitten I will help you rehome them by posting up pics on this site, you may not rehome any cat or kitten without contacting me first, I will need to know where the cat is going so I can send a new contract out to the new owners. I may offer you to bring the kitten back with in 7 days but If I cannot I will help you find a new home, if you want to wait for another kitten you must bring back the current one but no refund will be given only a trade if one is available.
What your kitten comes with
All kittens come with first shots one worming, food, three day money back guarantee, kitten should be free of FIP, FIV free of HCM and PKD and have been eating and drinking, fully weaned, playing and showing healthy signs, the cotract also offers a three year against PKD and HCM, this is protection for both seller and buyer, we have never had any case of kidney or heart defcts in our breeders, we have been breeding the same lines for many years wth good results but thats not to say it cannot come out in a rare case, if in a rare case your cat gets one of these defects and either is still alive or has passed away, another cat free of charge will be offered if you send me a statment that the issue is 100% genetic and not possibly another cause and will result in extreem sickness and or shortend life expectancy, you will still be able to keep your current cat and get a next available kitten, no vet cost will be given on your current cat unless I offer.
I only sell my kittens to homes that will not declaw, if you declaw your cat at any time the entire health contract will be void ! we train all of our kittens to use a cratching post, I work hard to train them, they have no access to use furniture so they learn fast to only use a post. I reccomend you have one or more set up for when you get your kitten home.